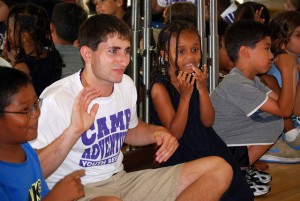 With lots of new singing careers being started by reality talent shows like American Idol it's not uncommon to wonder how to get your kids closer to that goal. In response to this a number of Star Camps are popping up. One such camp teaches performance, audition and singing lessons for kids near Nashville Tennessee at Whitworth-Buchanan Middle School.
According to the Daily News Journal:
Whitworth-Buchanan Middle will host its second annual STAR camp for students entering grades 6-8 July 23-27.

Students from any school throughout Tennessee are welcome to attend.

The camp includes singing, music, rhythm and stage training from guest clinicians Amy Fausnaught and Vera Warrick. Students will learn how to express themselves through performance, how to connect with an audience and audition tips.
So what makes Amy and Vera qualified to teach such a camp?
Fausnaught grew up on the stage and loves sharing her knowledge and enthusiasm with rising performers. She is known for directing choral groups, choreographing dances and sewing costumes for various productions.

Warrick holds music education degrees from Belmont and Tennessee State universities. She has been teaching private voice lesson, music camps and directing choirs for over 20 years. Former students have finished in the top three of American Idol or competed in the Miss America Pageant.
Now to say students have finished in the top 3 of American Idol is some what impressive. For this particular camp:
Registration begins at 8 a.m. July 23. The cost is $125 and breakfast and lunch will be provided. Camp runs from 8 a.m. to 3 p.m. daily.

For more on the Whitworth-Buchanan Middle School Choir program and contact information, visit www.wbm.rcschools.net/teachers/moorema/Web/index.htm.
Another camp by The Collective Sound is doing a world tour with camps in Barcelona Spain – Orange County California – Austin Texas – and Bournemouth UK.
So if you can't attend performance and singing lessons in Nashville Tennessee then perhaps you could check out the Collective Sounds tour here.
Here's a way you can help
Click the like, share and tweet buttons below this post and to the left if this has triggered a few ideas for you.