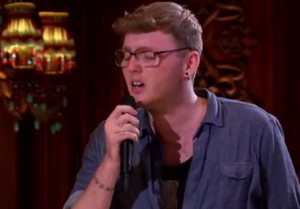 James Arthur has made an impact throughout the X Factor UK so far. In the X Factor houses round he sings infront of Nicole Sherzinger and Ne-Yo.
VIDEO BELOW
James Arthur sings "I Can't Make You Love Me" by Bonnie Raitt with so much passion, pain and feeling it's a lesson in itself on how to channel your own life's energy into your performances.
When you channel your own life's experiences into your performances like James does here it brings the performance and words to life, it makes it real – it touches your audience deeply.
James admittedly is singing for his life as this is his chance to either leave the competition or be selected as one of Nicole's top 3 to go to the live rounds.
Watch below how this sensitive singer performs an intense and moving performance.
James Arthur Sings "I can't make you love me" – X Factor UK judges houses
Ne-Yo said to Nicole: "It seemed like he was singing for his life."
When Nicole discusses with James about taking him through to the next round or not, as one of her top 3 – Nicole tells James, aged 24, that she is worried he may not have what it takes for the next leg of the competition.
"I don't know if you will be strong enough with the bright lights and if you can deal with the monster that the industry can be," she says, adding she is unsure if the competition is for him.
Thankfully Nicole did choose James as one of her top 3 along with Jahmene Douglas and Rylan Clark.
If you want to learn the lyrics to 'I can't make you love me' by Bonnie Raitt you can get them not by clicking here.
Like us on Facebook
Follow us @becomethesinger