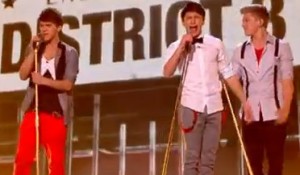 They were once named GMD3 as this boyband is made up of Greg (18), Mickey (18) and Dan (19) but now the newly named District 3 were flipping out on the X Factor UK live show. The boys did not have a good week last week as they were in the bottom two – so it's understandable that they may be 'Beggin' to stay in the competition this week with the occasional flip-out.
But in a good way! And what's all this about Katie Price?
WATCH THE DISTRICT 3 VIDEO BELOW
Dan Ferrari-Lane, Greg West and Mickey Parsons gave a completely transformed performance including some acrobatics to a full panel of highly impressed judges and screaming fans.
District 3 sing 'Beggin' by Madcon on X Factor UK live
The guys looked relaxed, looked like they were having fun and really worked well together. They was a lot of charisma to their performance, whether you like this type of performance or not – you can see this is a boyband that can make a recording future.
Now as with all types of boyband fame there comes attention, gossip and the adoration of female fans.  One female fan is Katie Price, 34, who met up with District 3 and Dan Ferrari-Lane. Yahoo news and the Daily Mail report Dan has shared that they have been exchanging flirty text messages.
In entertainmentwise Dan says that he met Katie Price through a mutual friendship with fellow contest and Essex boy Rylan Clark:
"We just started texting each other from there."

The young singer was obviously confused by Katie's attention, he added: "I was very shocked, but I fancy her myself. I've always been a Katie Price fan. I'm a fan of her boobs. They're massive!

"I haven't seen her since she was at the hotel, but I'm gonna see her."
This 19 year old boyband member is obviously enjoying the attention of the limelight, as a 19 year old lad might. I hope his dad has a little word in his ear.
But their performance on X Factor was definitely a major improvement and testimony to their hard work and practice. Nothing can take the place of practice, practice and more practice – especially when it is supported by voice, singing and performing lessons and guidance.
If you enjoyed this song "Beggin" you can get the lyrics and original music from our lyrics library by clicking here.