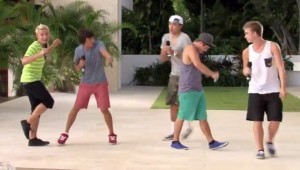 New boy band Playback step it up on X Factor USA judges houses round looking for a "Rich Girl" at Simon Cowell's house.
This newly formed group features Josh Metzler, Owen Stuart, Austin Corini, Brandon Hassan and Johnny Maxwell. It is a stroke of genius getting these guys together as a band. They may not be everyone's cup of tea but you can see them recording and performing to audiences of screaming fans.
Playback sing "Rich Girl" by … in X Factor USA judges houses
Marc Anthony was not impressed but Simon Cowell was. What do you think? They worked together well, their voices suited each other as a band, they do have a strong sense of fun about them.
From reviewing the figures of viewers wanting to see these guys again they are more popular than Jillian Jensen, Jennel Garcia, Willie Jones and Jason Brock, so I guess these guys should go through due to popular public demand.