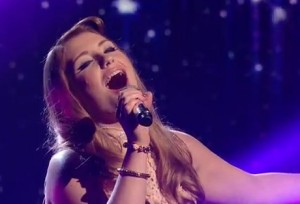 16 year old Ella Henderson takes another song to new heights on X Factor UK live shows. Ella singing a classic Gary Barlow and Take That song "Rule The World" to Gary (himself), Louis, Tulisa, Nicole and the rest of the audience with yet another breath taking performance.
VIDEO BELOW
Even Gary Barlow said:
I've got to be honest, there's nothing I hate more than someone singing a song of mine 10 times better than me.

That was absolutely stunning!
Nicole said:
Your stunning in every way. You're from another planet… It's a blessing to see what you do… Thank you so much.
Louis added:
"You're probably the best female singer we've had on this show since Leona Lewis."
Ella Henderson, 16, sings "Rule the World" by Take That
She is amazing and when Tulisa adds:
Ella I know everyone see on the outside that you alway look so confident, and, you know, so composed every time you're on stage – but I know from knowing you how nervous you are on the inside.

Let's not forget you're only 16 and you stood up there tonight and you nailed it. What you do is untouchable…
It really is a privilege to watch such a love and passion for singing delivered with so much incredible talent – as a parent it makes you reflect on the talents your kids have inside if only you supported them as Ella has been encouraged and supported.
Brings a tear to the eye. Well done Ella – and well done to her family for supporting her.
If you want to practice this song and put your own spin on it you get get access to the lyrics and video in our 'Lyrics  Library' by clicking here.
Click like and share if you were impressed by Ella's version of "Rule The World" on X Factor UK live.