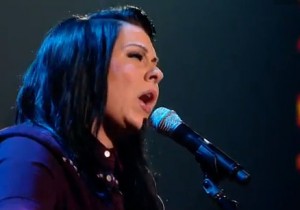 She is one of a kind. She is unique and original and a first for X Factor. Her music getting loved the world over, especially around Europe. Lucy Spraggan sings "Mountains" as her first X Factor live show performance.
Lucy plays her guitar, writes her own original songs in her own original style. X Factor hasn't accommodated this kind of artist before. It's a breath of fresh air to see Tulisa coach Lucy into staying true to herself.
It's Lucy's original music the audience have fell in love with and to detract from that would strip Lucy of what makes her specialness shine.
Gary Barlow says:
You truly are a unique artist. I see your strength in 3 places. You're a great singer. You're a great musician and most importantly you're a great song writer. Please don't leave a third of your strength in the dressing room. Well done.
"Mountains" by Lucy Spraggan on X Factor UK live shows
Nicole says that she's a beautiful story teller…
…and you're just brilliant in your own spunky, honest and witty way.
Tulisa says…
You are one of the most unique artists this competition has ever seen… You're best when you are doing you, and I wouldn't have it any other way.
21 year old Lucy from Sheffield has a self-released album of her songs called Top Room at the Zoo and says that the songs on the album were inspired by a short-lived romance, when she visited America at the age of 18 with an older woman of 27.
Here is an updated wikipedia snippet about Lucy's recent rise to fame…
Lucy auditioned for the ninth series of The X Factor, which was shown on August 25, 2012, singing her own song "Last Night" from her self-released album Top Room at the Zoo. She won herself a place at bootcamp after performing the track, which left the audience at the Manchester auditions chanting for more.

Her second song, which was a rendition of "Halo" by Beyoncé Knowles, was shown on The Xtra Factor. Shortly after the audition was screened, the song climbed to Number 70 in the Official UK Singles Chart, and reached Number 2 on iTunes. However, it was soon removed from iTunes by request of The X Factor producers. 

On August 29, 2012 Greg James announced that "Last Night" was at number 5 on the Official Chart Update despite the song being removed from iTunes, her album Top Room at the Zoo was at number 7 on the Official Chart Update as well. On September 2, 2012 "Last Night" entered the UK Singles Chart at number 11 and her album Top Room at the Zoo entered the UK Albums Chart at number 22. She sang "Moves like Jagger" by Maroon 5 at bootcamp but the performance was described as "awkward" and "messy". She returned to the stage with a mix-up of songs that she really liked and meant a lot to her.

Tulisa Contostavlos then said that she wanted to hear one of her tracks so Lucy decided to sing "Tea and Toast," stating that the song was about a real couple. After she performed the song she burst into tears when she received a standing ovation from the audience and the judging panel. She made it through to the live shows as one of the three female singers selected by mentor Tulisa Contostavlos.
If you want the lyrics to "Mountains" by Lucy Spraggan you can view them in our Lyrics Library here.
If you love Lucy Spraggan you can also download her album that includes all her songs below: