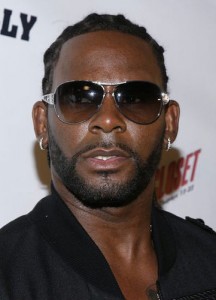 In the world of R&B there has been hardly anyone that has been as successful and influencial as R Kelly. So it's natural for a person to wonder 'how can I become a famous singer like R Kelly'? But would you really want the journey that R Kelly has been through?
R Kelly's autobiography is now out. It's vivid. It's perhaps a bit guarded but either way it is a clear insight into the life of such an internationally famous singer and song writer, with very shocking insights throughout with a smattering of porn here and there mixed with the spiritual. A strange combination you may think.
Jesse Washington of the San Franscisco Chronicle had this to report:
How can I become a famous singer like R Kelly
Let's get this out of the way up front: R. Kelly's autobiography does not discuss what really happened with the sex tape that almost sent him to prison. It does not include a single word about Aaliyah, the late singer Kelly allegedly married when she was 15. Other tantalizing incidents and individuals are glossed over. A tell-all, this is not.

Instead, "Soulacoaster: The Diary of Me" recounts the creative and family life of a once-in-a-generation performer and musician. Despite its guarded tone, the book is a vivid and entertaining journey that reveals much about the musical engine of a true artist.

Kelly, whose ability to write and produce hits for himself and others is unparalleled in modern R&B, does confront the defining theme of his career: the juxtaposition of the sacred and the profane, the sexual and the spiritual.
So I guess this autobiography may not go into every explicit detail about R Kelly's life but there are some shocking truths within it too.
In the first paragraph of his life story, Kelly's beloved mother promises that he "could achieve all things through Christ Jesus." Turn the page, and Mama Joann is sneaking 5-year-old Robert into a lounge where she is singing with her band. Next she's in church, speaking in tongues. A few pages later, 8-year-old Robert is inside his mother's house on the South Side of Chicago, taking pornographic pictures of adults and being molested by a teenage girl.

And people question how "Sex Weed" and "U Saved Me" can come from the same man?
So R Kelly's early life may of been very different to many young persons, and many famous singers. But what about the presence of music in his life?
Music was a constant presence inside young Robert. He literally had sounds cascading through his mind, "like I had a radio playing nonstop in my head . I would hear melodies, although I never knew what they meant. In fact, I thought everybody heard the music."
And what about his other skill areas – how good was he at school?
Kelly also never knew his father and could not read due to an undiagnosed disability. (Kelly says he is still illiterate; his book was written with David Ritz, biographer ofMarvin Gaye, Ray Charles, and other giants.) The only reason Kelly graduated from elementary school was because he could play basketball. All this created a shy, shameful boy who often felt "like an alien," a phrase that reappears throughout the book.
So if he had such challenges how did his musical talent get recognised?
Kelly credits his middle-school music teacher, Lena McLin, with recognizing his talent. As Kelly tells it, the first time McLin laid eyes on him in class, she singled him out and said: "You are going to be famous. You are going to write songs for Michael Jackson. You are going to travel the world."

Did she really say that without hearing him sing or play a note? It's difficult to decide, especially since Kelly shades the facts elsewhere in the book. It's obvious, however, that Kelly loves McLin, and that she played an enormous role in Kelly's development.
It's an intricate and somewhat complex life that's described.
"Soulacoaster" goes on to describe the rise of Kelly's career and engrossing details of the creation of his many classic songs and albums. Fans of Kelly and black music in general will enjoy his description of working with artists from Jackson (Kelly wrote "You Are Not Alone" for him, unasked) to Celine Dion ("I'm Your Angel") to Notorious BIG (the title of their best collaboration can't be printed here).
Here is an X-Factor performance of "You are not alone"…
https://www.youtube.com/watch?v=05M7TyzofGg
His description of how he created "I Believe I Can Fly" must be read to be believed (it involves childhood dreams and melodies realized decades later). And Kelly does go into some detail about the conflicts with Jay Z during their tour, which led to Kelly being pepper-sprayed backstage and fleeing Madison Square Garden arena in the middle of a show.
I'm glad the book has been written. It gives insights to the ups and downs of the signs of genius whether you agree or not with some of the life decisions.
And when it comes to answering the question how to become a famous singer like R Kelly it's most definately not the kind of answer you would be expecting.
Here's a way you can help
Please click the like and share buttons below or to the left of this post if anything of R Kelly's music has inspired or touched you in one way or another.