James Arthur has had an eventful week doing a live performance with Labyrinth (excerpts in the video below) and now he shows the breadth of his talents on the X Factor UK live Halloween show. He does his own version of the Eurythmics classic Sweet Dreams.
James got rave reviews from all the judges.
WATCH THE SWEET DREAMS VIDEO BELOW
There is a full rock band that builds up the tension and dark torch-holding singers that join in the chorus at the end.
James Arthur sings Sweet Dreams by the Eurythmics in Halloween X Factor UK live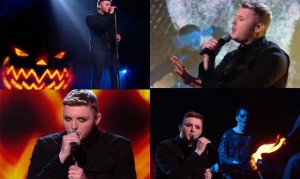 This was a truly inspired performance by James and the judges had their own nuggets to share.
Louis told James: "Every week you bring something new to the show. You're a very dark, intense performer. We've not had anything like that before."
And that's so true – he is a dark performer and perhaps this is what gives his performances their uniqueness. He bares his soul within his music.
Tulisa told James: "That is how you take an old-school classic and make it modern. I think you can go so far in this competition."

Gary said: "James, wow again! It wasn't just the performance of a great singer, artist – it was the performance of somebody who wants to win the competition."

And finally Nicole added: "James Arthur, you are the difference. You are an international recording artist… that is the difference. Girls are going to be having sweet dreams tonight – that was dope, dude."
 It's an interesting arrangement of comments. You could see
James as a recording artist
and you can see that he gives his all in his performances and the guidance and voice lessons that he is receiving as part of this competition are making an impressive difference in his performances.
James Collapsed
Last week he collapsed after his performance – so he is very fortunate to get the right coaching and lessons along the way to manage his emotions and the strain he puts his system under.
James Arthurs version of Sweet Dreams by the Eurythmics in this X Factor show is one that many tips and pointers can be learned from if you play it back a few times.
Sweet Dreams Lyrics
 [button color="red" link="https://becomethesinger.com/sweet-dreams-lyrics-by-the-eurythmics" target="_blank"]You can get the lyrics to Sweet Dreams from our lyrics library by clicking here[/button]
Do you think James can win?
Do you think James can win this seasons X Factor? Share your views below.