She walks on the  X Factor USA audition stage with her bedazzled denim vest. Diamond White is 13 and she lives in LA with her mom, as she say her Dad "does not associate himself with her".
She says she wants this for herself, for her mom and as a means to get out of the shoe box apartment they live in.
Diamond is fearless and fiercely talented, as illustrated in her bold audition. Check out Diamond's nerves before going onstage — and the judges' reactions to her song choice!
VIDEO BELOW
Diamond White sings "It's a man's world" by James Brown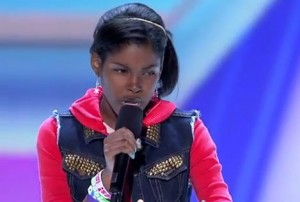 It is an absolute inspiration to see a 13 year old so fierce and talented. She's an inspiration for all the timid girls out there.
It's refreshing when Cowell said, "Diamond, you've got to be fantastic." And she was. Way to go Diamond.
As they said you're mom was right you are a 'Diamond'.
If you want to practice this James Brown classic – "It's a man's world" you can review the lyrics by clicking here or visiting our lyrics library.

Like us on Facebook
Follow us @becomethesinger