Arin Ray has performed in his first Live X Factor USA Show with a Supremes classic 'Keep Me Hanging On'.
Arin is very determined he said that he is going to show Britney and everyone else that he is going to be a super star. But what do you think? Watch his performance below. Is Arin destined to make it to super stardom if he keeps putting the singing lessons, performing lessons and hard work in all the way?
Arin Ray sings "You Keep Me Hanging On" by the Supremes on THE X FACTOR USA live show
What the X Factor judges had to say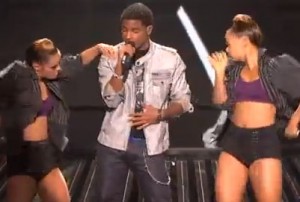 "That was a really creative and inventive song choice. I felt your vocal was slightly not on par with the genius of that track," said LA Reid.
"I couldn't really hear your vocals because the girls were screaming so loud. So I think you have a lot going for you. I felt like it was a little stiff." said Demi Lovato.
"I understand your vocal was a little off – you were distracted by all those dancers. I'd be the same… What you have is that swag… that self confidence… and that's what you need in a pop star… I was overall impressed," said Simon Cowell.
"I'm so proud of you – I can't believe. You are a little genius up there… It was on. I loved it." said Britney.
But what do you think. Has he got the swag? Will he be the star he wants to be? Share you views below.
If you want to watch a rocked out performance you can watch it now by visiting here.