13 year old Diamond White has given some great performances so far. But this is her first X Factor USA live performance. Under Britney's guidance she brings some '90s hip-hop flair to Train's "Hey Soul Sister".
You can tell that Diamond is not your average 13 year old, and all the additional singing coaching and performance lessons are transforming her into quite a star.
Watch the video of her performance below and share what you think of this 13 year old.
Diamond White sings Hey Soul Sister by Train on the first X FACTOR USA live show
What the X Factor USA judges said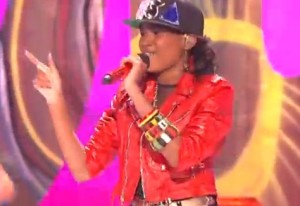 "I did think that was really strong… at the beginning it felt a bit mechanical to me but when you went into the cage and the second verse you started to own the song," said LA Reid.
"I thought the song choice was really great… you have one of the most powerful voices in this competition… I just wanted to see you having more fun," said Demi Lovato.
"I've got to admit the talent tonight has totally blown me away… and I'm seeing a massive transformation, and Britney I think you've done a really good job with this girl… You came across like a relevant pop star," said Simon Cowell.
"You impressed me so much. I am so incredibly proud of you," said Britney Spears.
If you want to watch the X Factor performance that originally blew the judges away with Diamond you can watch it here now.