From her first audition, Jennel Garcia has been the resident rock chick on X Factor USA and in her first live she does not disappoint with the Motley Crue's "Home Sweet Home".
She's had a complete make over under Demi Lovato's direction with a new hairdo and a black rock chic outfit.
Jennel Garcia sings "Home Sweet Home" by the Motley Crue on THE X FACTOR USA live
The X Factor judges comments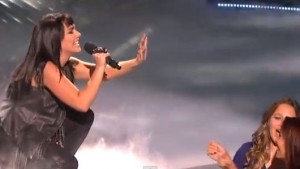 "I'm completely surprised. I did not expect that… That was a 10… You just convinced me you could win!" said LA Reid.
"You completely rocked it out… I loved everything about it. You were amazing," said Britney.
"…with that song, you define the theme Made in America. I absolutely love you… The performance was amazing." said Simon Cowell.
"I'm so unbelievably proud of you I feel like crying… You're such a rock star," said Demi Lovato.
You can watch Jennel's original rock chic performance by right now by visiting it here.
What do you think of Jennel's performance. Is she the complete rock chic package? Can you see her going far? Do you think she'll keep up with all the further singing and performing lessons the X Factor team will be giving her?