Jahmene Douglas's nerves have almost stopped his X Factor adventure. His 2 biggest questions are how to overcome singing nerves and how to overcome performance nerves.
What you focus on you get more of. He relives his not on form performance of the day before and says he can't afford not to perform at his best – he's only got one chance.
When you watch back his lead up to his recent performance you can hear him say, "I feel weak", "I don't think I have enough to perform at my full potential today"…
One of the X Factor team tell the judges:
Jahmene's next, he's actually working himself up with the anxiety – sending him to see the medics…
When your performance and singing nerves and anxiety get a hold of you it shows. But learning a few techniques and understanding what is happening can help anyone overcome them so a top performance can be delivered. Some top tips will be shared shortly.
Here's Jahmene's Singing Nerves and X Factor Anxiety
As Louis Walsh and Nicole Scherzinger direct Jahmene's attention to what is needed for his performance he comes out and sings his heart out.
Having a great voice like Jahmene is not everything if your thoughts knock you off – your nerves and anxiety get in the way. The right singing lessons, breathing exercises and performance tips are essential to practice, study and pick up.
Learning a few tips from singing anxiety performance coaches can make the world of difference.
Tips from a singing anxiety performance coach
Joy from Singing Mastermind shares that her singing teacher told her time and time again that her singing breath is the support that has to be under control in order to sing well.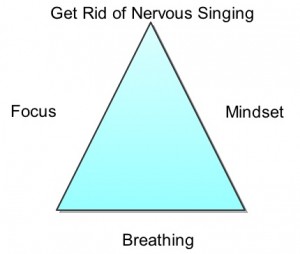 #1 – Improve your singing breath control

I always recommend the dog pant and the slow leaky tire as 2 singing breathing exercises that you can do before you go out in front of people.  Better yet, do them daily and you will have better muscle control when the panic attack starts.

We will share how to perform these exercises in one of our 'Lessons' articles shortly.

#2 – You have to change your mindset

Your mindset has to do with getting rid of anxious thoughts about your life, about what people will think, about how you will sound and simply listen to the music inside of you.

What you believe about yourself will cause you to panic or pull it together and that all starts way before you get up to sing.  It starts with a silent place inside of you, that place that makes you want to sing.  Remember that singing is natural.  The thing that happens that is unnatural is how we let everyone else's opinion mess us up inside.

Think about what it was like to sing when you were a child, before anyone ever said anything unkind to you about your singing.  Did you care what anyone thought?  No, of course not.  You only cared after someone messed with your head.  So now you have to undo that junk and get the right kind of singing mindset inside of you.

#3 – Focus becomes your best friend

Focus is partially a combination of #1 & #2.

For instance, the slow leaky tire directions tell you to pick a point out in front of you and send your breath to that point.  You can't be distracted and do that activity well, but if you stay focused on the point, you will start to feel how the diaphragm works to control the stream of air that you sing "on."

So, when you sing, don't think about what everyone else is thinking.  Think about your singing breath, think about relaxing your shoulders, focus on a "tunnel" in front of you to send your breath through, focus on how singing makes you feel good, how much you enjoy singing, how you LOVE singing.

Forget about everything else and just focus on singing!
Joy is a very experienced coach and her guidance is one that Jahmene could learn from, as could anyone else who suffers from singing performance anxiety and nerves.
Let's hope that Jahmene get's the opportunity to practice overcoming his singing nerves and anxiety. He is an awesome singer.