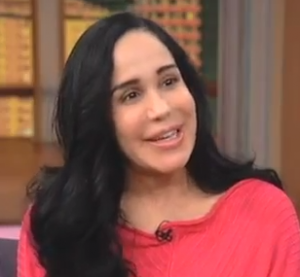 There are always interesting stories on how to become a famous singer or rapper and some fame seeking life styles have really colourful twists and turns.
Have you ever heard of Octomom? She's the lady that gave birth to sextuplets and then octoplets. That means she has 14 kids. According to James Johnson of the Inquisitr Nadya "Octomom" Suleman is set to set the dance floors alight with a new singing career.
Become a famous singer or rapper and get Usher style management
The old adage "you take work where you can get it" might be the perfect way to describe Nadya "Octomom" Suleman. The quasi-celebrity has acted in porn, took a gig as a stripper and now she's going to release a dance song.
Now that is what I call a varied and interesting start to a career. But Madonna had a similar start a number of decades ago, so who am I to judge.
The mom turned bankruptcy filer, turned adult worker announced this week that she has signed a recording deal with Global Groove Entertainment and has already cut a track called Get On The Dance Floor in which she sings and raps (watch out Jay-Z!).
So she doesn't just sing she raps as well and has the ability to strike a record deal.
That's not even the scary part, the songs producers are none other than DJ Mr. Mig and Mike Rizzo, two men who have worked with the likes of Britney Spears, Taylor Swift, Usher and the current reigning queen of pop music Beyonce.
So she's got good backing and top class producers – so the foundations look good but what about the voice?
Apparently Octomom took the singing job really seriously and worked with Adam Barta who is featured on the track.

The new Octomom dance track will be released on August 1st at which point every stereo in the world will simultaneously catch on fire and engulf the listeners in flames, ending their lives before too much torture can come to them.
A bit melodramatic but lets wait and see.
So if you want to know how to become a famous singer or rapper is step one to get your kit off and be unstoppable. It does sound like Nadya has had a number of challenging situations but it looks like she has her sights firmly set on fame no matter what. I guess with 14 kids she really needs the money.
What would you do for fame? What would you do to get a record deal? Do you think this will be a flop?
Like and share if you think this sounds a like it's going to be a disaster.
Tweet if you want Nadya to make it work.