The nervous ASDA worker Jahmene Douglas gave an impressive performance of John Lennon' "Imagine" on the first X Factor UK live show. He said he is working on overcoming his nerves and his performance was rock solid.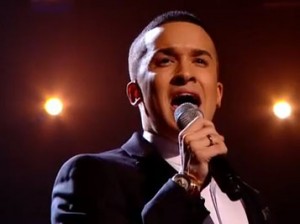 Nicole Sherzinger seems to be the ideal support in helping him overcoming his nerves. It's an incredible performance.
But what do you think of Gary Barlow's advice to not over sing the song? Do you think Jahmene over sang the song or is it simply his style?
Louis Walsh says he loved his audition singing "At Last" and loved his performance of "Imagine".
Tulisa said that she thought Jahmene has the strongest male vocals the show has seen. And Nicole congratulates him because he has 'found his balls'.
If you want to learn how to sing "Imagine" like Jahmene or your own version you can get access to the lyrics by clicking here.
Click like and share if you were impressed by Jahmene's performance.
Grab 5 free online singing lessons too if you want to take your singing to the next level.