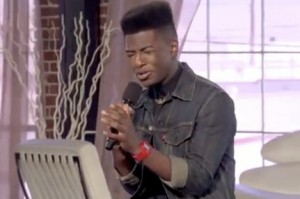 Willie Jones aged 17 forgot the words to his bootcamp sing-off. He still made it through to the judges houses round with Demi Lovato as his mentor.
The song he forgot the words to was "Nobody Knows".
WATCH THE VIDEO BELOW
It's risky to try the song again as his last chance to get through to the live shows. See what you think – see if Willie can pull it off – one last time.
Willie Jones sings "Nobody Knows" by The Tony Rich Project
Nick Jonas is convinced Willie is a star. But what does Demi decide when she chooses her final 4 for the live shows.
You can watch the moment Demi makes her decision below:

If you want to see where Willie forgot his words you can watch it by clicking here and you can get access to the lyrics by clicking here.
If you want to see Willie's original audition you can watch it by clicking here.
Click like and share if you think Willie Jones is star material.