James Arthur is now on the X Factor UK live shows. He stepped on to the stage and sang Kelly Clarkson's "Stronger".
Gary had some 'honest words' about the performance but everyone else loved it.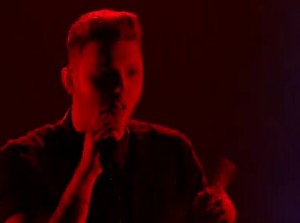 James shared on the first audition that he had had a tough life so far. TellyMix had this to share:
X Factor's James Arthur has said he was left "disappointed" after his mum seemingly claimed he had lied about his upbringing on the show.

The 24-year-old was seen last month's audition shows telling a sad tale of a teenager who was left out on the streets following his parent's divorce.

He told host Dermot O'Leary on the programme: "My mum and dad split up when I was very young, the difficult thing for me was the fact that my mum and my dad didn't have any sort of relationship for my entire life, I went off the rails especially at school, I used to get suspended, thrown out.

"I ended up like sleeping rough sometimes, so I volunteered myself into foster care, I didn't want to be involved in any of the arguing anymore, I just wanted to get away, so initially music was a coping mechanism."
Whatever the situation when James sings you can hear the pain that he brings out in emotional songs. His performance of "Stronger" didn't seem to lose his integrity for me, but lets see.
You can watch his first audition by visiting here.