Some singing teachers have a wonderful way with children. They manage to draw their real voice out of them, and not just that they manage to bring the real child out of them no longer shrinking back. One such teacher was Delores Arthur of New Orleans but sadly no longer can children learn to sing in New Orleans with Delores.
It's a great loss, reports John Pope of the Times-Picayune.
Delores Arthur, who loved teaching children, singing opera and wearing flamboyant hats to church, died Saturday at Ochsner Medical Center in Kenner. She was 83.

A lifelong New Orleanian, Ms. Arthur earned a bachelor's degree in elementary education at Xavier University and a master's degree in education at the University of New Orleans. She was a teacher and an administrator in the Orleans Parish and Jefferson Parish public school systems from 1959 to 2002.

Ms. Arthur was tough, but beloved, and she always knew exactly what to do to grab her pupils' attention, said her son Byron René Arthur.
Children learn to sing in New Orleans
Her son considered her gifts to be 'God-given'.
"It's a gift, it's God-given, and she had it," he said. "She was tough. She could control a classroom with just a look or a snap of a finger, but at the end of every single day, the kids would line up and give her a hug."

As an adult, she performed in opera choruses. A point of pride, Arthur said, was that she was among the first African-American singers to perform in an opera — "Carmen" — at Loyola.

She took care of her voice. "My God, did she sing, even as she got older," Arthur said. "She had her thyroid removed a few years ago. The one thing she was concerned about was whether she could hit her high note. When we got her home, the first thing she did was to see if she could hit a high C, and she could."
It's always an inspiration for children when they share time with someone who loves singing as much as Delores. It's a sad loss for New Orleans and many children.
So in the spirit of helping children learn to sing in New Orleans and the world over here are a few tips that from another singing teacher called Jamie has to share.
Once my children are a little older, I plan to start teaching voice lessons again. In the meantime, I thought maybe I would share a few tips you can use, even if you aren't the next American Idol, to help young children learn to sing.

1. Modeling – I am lucky to be able to sing at our church and my kids are always there while we practice. Every week they see mom or dad upfront singing. I love Sundays where I look out and they are bobbing their heads, dancing, and clapping along with the music. The biggest surprise is when they start singing the songs at lunch later that same day. Let your kids hear and see you sing. Sing silly, sing fun, sing for real. Kids should feel like singing is a normal form of expression. By singing with and in front of your kids from early on, they will see it as just another way to communicate. Later on, this well help them feel more confident in their singing.
Delores also sang at church regularly which also inspired her son. I love this idea, it's inspiring for children in the realm of singing and also an opportunity to be surrounded with good company.
2. Mimicking- Toddlers are primed for learning about music because they love to mimic the things they hear. When you hear them humming, mimic the sounds they are making, as if you are singing together. Then try creating a new 'song' for your child to try to mimic. Ear training is a vital part of musicality, this will help them start to develop a natural ear for melody. Use sounds, not words if they aren't talking very much yet.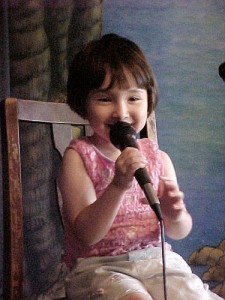 This sounds so much fun, my kids have a go at singing and I love the idea of joining in, mimicking, instead of telling them they need to do it this way or that. I can see how this owuld work a treat.
3. Rhythm – Encourage your kids to clap along with you to a slow beat. As they get better start changing things up a bit. Once they are good at holding a steady beat you can begin to improvise with new patterns.
Again this is so obvious but strangely creative at the same time.
4. Repetition- Practice makes perfect! Find out what songs your kids are learning in school or at church and sing them together. If they are watching a show, sing the theme song along with it or any songs in the program. You may be surprised to discover they already know the whole song, even if you never heard them sing. Kids need cues from the others around them of when it is appropriate to sing. By hearing you sing along too, they will know it is time.
All kids love repetition, especially when it's something they enjoy.
5. Confidence- The best tool you can begin to develop in a young musician is confidence. A great way to encourage confidence in young children is to sing silly and pretend to sing opera style with whatever song you sing. For some reason, people really let go when they are being silly. Singers really need to get past their inhibitions in order to clearly and passionately communicate a message. Another great technique to build confidence is to sing speak. I remember playing in my room as a child and singing the narration for my Barbies interactions. Sounds ridiculous, but man, it really helped me develop as a musician.
Being silly, what a technique – so much fun too. Anything that's fun with your kids really gets them engaged.
6. Let them be heard- Musicians must want to be heard if they are going to succeed. Help your children develop confidence in their skills by seeking out opportunities to play or sing. Family get-togethers, church, even pretend performances at home are a great place to start.
Stage, film, action!
7. Give them praise!
And a most essential ingredient for any growth and development to occur. It is a sad loss for Delores, but the skills for children to learn to sing doesn't have to be lost. Give these tips a go and say a prayer for Delores and her son too.
Do you have any friends that have kids that would be interested in these tips?
If you've found the tips in this post useful and others would benefit click the like and share buttons and the tweet buttons below or to the left of this post.