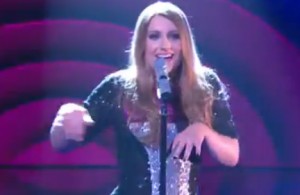 Ella Henderson, 16, dances "You've got the love" in the X Factor UK live shows. Ella has been giving amazing performances week in and week out and now she brings a new dimension to her performances with a bit of choreography and dancing.
The judges loved it, well not all – Gary Barlow had something to say about it.
WATCH THE ELLA VIDEO BELOW
Many boo'ed Gary's comments, and the rest of the judges disapproved of his words. But Gary stands by what he said.
Ella Henderson sings "You've got the love" by Florence and the Machine on X Factor Live
Gary Barlow said:
Another great vocal performance, slightly safer for you this week. Dance moves that could have been done by Steps in the 90s slightly cheapens your act, you don't have to do it, say no in future. You are great just singing. You are the Adele of the competition.
TULISA CONTOSTAVLOS said:
She is not Adele, she is Ella and she had fun this week and so what if she busts a few weeks. Who knew you could be uptempo? You had fun, you are sixteen and you made it current.
LOUIS WALSH said:
You are a true professional, you got the love, you got the voice, you got the star quality and Gary Barlow she's got the X Factor. In five years time she'll be an international star.
NICOLE SCHERZINGER:
Maybe some people can't dance. She is a class act and actually if there is anyone who is going to critique you it is going to be me on the dancing and you were effortless, and you made them yours. I want to find something to critique you on but I can't. You are beyond your years.
What do you think? Did Ella's dancing add to her performance or detract from it? I for one enjoyed it.
If you want to check out the lyrics to this song you can review them in our lyrics library by clicking here.