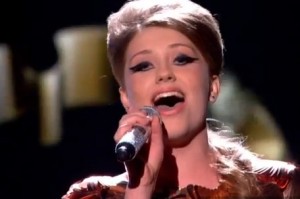 16 year old Ella Henderson has had faultless performance throughout the X Factor UK 2012. In the live shows she is still showing that this 16 year old from Grimsby is favourite to win the X Factor UK.
WATCH THE VIDEO BELOW
Ella sings a vocally demanding song from Minnie Ripperton – "Loving You". The high notes in this song are one of the most difficult ones to pull off convincingly, beyond the scope of many if not most singers.
Ella yet again delivers and amazing performance.
Ella Henderson sings "Loving You" by Minnie Ripperton – X Factor live
At this stage in the competition the pressure can be very high. Can Ella keep up her performances throughout the rest of the competition?
To perform this way Ella must really love singing and music and practice, practice, practice.
Ella has quite a unique story as to why she wants to win the X Factor. She shares her story in her original audition that can be watched again by clicking here.
If you want to see another of Ella's performances so far you can review another by clicking here.
Click like and share if you think Ella has what it takes to win.