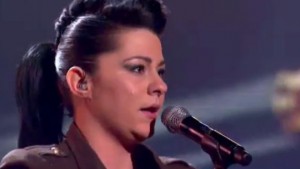 Lucy Spraggan, from Sheffield, for the second week running, has done a cover song. Last week it was Kanye West's Gold Digger – this week it was her own spin on David Guetta's "Titanium".
WATCH THE VIDEO BELOW
Lucy had appeared in the newspapers following a boozy night out with fellow competitor Rylan Clark. They were kicked out from the hotel where all contestants are staying.
Lucy Spraggan sings "Titanium" by David Guetta on X Factor live shows
Gary Barlow said: "You still keep coming back, keeping us all guessing. You made the whole thing feel like your own."
Nicole Scherzinger said: "Brilliant job in making the song your own. Your lyrics are so honest. You are titanium babe, there's a sparkle in your eyes."
Louis Walsh said: "I think you're a brilliant storyteller."
Mentor Tulisa added: "You're a storyteller and people connect with the performance."
You can get the lyrics to "Titanium" now by clicking here. If you want the lyrics to other songs by Lucy Spraggan you can get them by clicking here too.