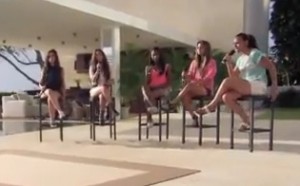 A number of girls were cut in the X Factor USA bootcamp rounds but a surprise turn of events has Simon Cowell offering a life line to 15 year old Dinah Jane Hansen, 16 year old Lauren Jauregui, 18 year old Ally Brooke, 15 year old Normani Hamilton, and Camila Cabello also aged 15.
The life line was for these solo artists to join up as a girl group. The name for the group is LYLAS.
WATCH THE VIDEO BELOW
The girls had little time to practice and get used to each other but their passion and gratitude for this opportunity is an amazing thing to see.
The girls sang "Impossible" at Simon Cowell's house to Simon and Marc Anthony.
LYLAS sing "Impossible" by Shontelle in X Factor judges houses round
Both Simon and Marc thought this new group were incredible. Each has a great voice of their own but when in a group the effect is one in a class of it's own.
I must agree the decision to allow these girls to form a band looks like a stroke of genius. Time will tell.
Click like and share if you thought this was a great performance.
As Lylas they sang "Impossible" but if you want to watch an original audition of 15 year old Dinah you can watch it by clicking here.