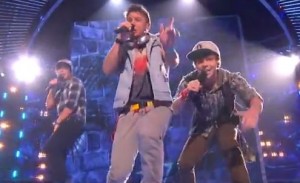 Emblem3 have charisma, looks, energy and a lots of screaming girl fans. Not many mashups of songs work too well but in this performance the boys take on One Direction's 'What Makes You Beautiful', Katy Perry's 'Californian Gurls' and the Temptations' 'My Girl'.
Now this combination may sound like it would not work but watch the video below and decide for yourself.
Emblem3 sing 'Californian Gurl' by Katy Perry mashup on X Factor live week 2
Now that was quite a performance, and Simon shares that the group only had one day rehearse the song.
What did the X Factor judges say
Emblem3 all smiles with the X Factors judges feedback on their Californian Gurl performance

LA Reid said it was "perfection".

Britney Spears said she "loved how they made the song their own".

Demi Lovato said that she thought they were 'really great' but "if I was your mentor I would not of plugged one of my other artists (One Direction) that you could be easily compared to'.

Simon Cowell said 'every time you come out it is fun, it is energy… it's everything a band like you should be.'
Now there are a lot of cynical ideas about forming a boy band but Emblem3 look and sing like the real deal.
Here are a few tips and instructions from an eHow contributor about forming a boyband. See if any of these point resemble any bands you know.
How to form a boy band
Assemble a group of young guys. The best number is usually five. Make sure they're as young as possible but definitely under 25. You need a rebellious one, a shy guy, an older guy and a younger one as these character traits appeal to a wide audience.
Then learn some dance steps, nothing major but this is essential for most youth bands today. You can watch a few instructional and music videos. You will notice you it's mostly stepping and moving in sync with the music.
Go to a karaoke bar and practice singing. Practice infront of people. Essentially all you have to do is carry some form of tune. As long as the dancing and look is good the singing can be an accessory. Getting additional singing lessons, even free online ones will make a difference.
See if any member can play an instrument. This isn't always necessary, but can be an added bonus.
Get some cool costumes and hairstyles to create a good look. Remember that the "good look" usually drives most youth bands as girls love to have posters of the boyband on their walls
Now as a way forward choose one song you can all sing well. Then practice, practice, practice – sing it over and over. Once you have that one hit that will stay in people's ears forever, you'll be stuck in their heads too.
Put together a music video of your best song(s). Don't be afraid to overdo it on the special effects and fancy camera angles. The right flashy video can be your ticket to stardom regardless of how the actual music is.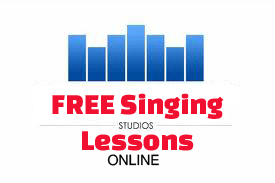 Now some of these points could relate to a small part of Emblem3's journey so far but they seemed to have far surpassed many of these basic criteria and most especially with the support of Simon Cowell and the X Factor singing and performing coaches.