The good looking boyband Union J sing Sweet Dreams by Beyonce with their own Halloween style on X Factor UK live. The guys are finding all this sudden fame a bit overwhelming, with screaming girls everywhere they go.
They certainly look and sound like a rising boyband. Their energetic performance on this halloween X Factor was again a step above yet again.
WATCH THE VIDEO BELOW
As STV pointed out
After being told by Gary Barlow that they had a few issues with their harmonies last week, it was clear that the boys had been practising non-stop as they took to the stage for a soulful performance of the track.
Union J sing Sweet Dreams by Beyonce on the Halloween X Factor UK live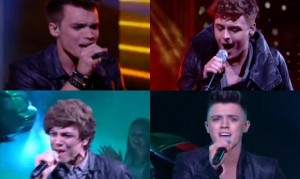 It's always inspiring to see that these guys have the true work ethic of practice, practice and practice some more. Good things do not come to those that settle with where they are at – singing lessons, voice coaching, breathing exercises and constant practice are the key.
Tulisa praised the boys: "I think the vocals are really good tonight. Jamie your vocals in particular were really strong."
Nicole followed with: "I thought it was absolute perfection. You didn't need anything else, I love every single one of you. You own it. You were honest, simple and beautiful."
Gary agreed, but added: "Musically it was very over produced. Everyone loved it but I have seen this performance before. Surprise us come back with something different next time."
Nicole leapt to the boys defence: "It wasn't overproduced."
Louis, their mentor added: "I believe in you. The potential of you four boys is amazing. You could be the next big boy band and I believe you can be."
Who do you think has got it right? What do you think of these guys? Have your say share your comments below.
[attention]You can get the lyrics to Sweet Dreams by Beyonce from our lyrics library by clicking here….[/attention]