Some X Factor UK 2012 auditions are memorable and then there is Lucy Spraggan. She writes her own songs, sings, plays guitar and has a bubbly personality.
Downloads of her audition beer fear song called Last Night have spread all over the UK and Europe in a matter of a week and according to s.tv it has shot to number 2 in the iTunes downloads charts.
Wow, all that with one audition on X Factor.
X Factor UK audition 2012 with Lucy Spraggan
Here is a replay of this memorable audition.
The singer is not only celebrating getting four yes votes on X Factor, but her second place position in the download chart, which is one above the current number one single in the Official Top 40 UK Singles Chart, Sam and the Womp's Bom Bom, which is at number three.

Last year's X Factor winners, girl band Little Mix, meanwhile are sitting just above Lucy at number one on the iTunes download chart.

Lucy had self-released Last Night last year, via her album Top Room at the Zoo and it has now become a surprise overnight hit.

Speaking on This Morning today, Lucy told stand-in hosts Ruth Langsford and Eamonn Holmes, that the reaction she's faced since Saturday has been phenomenal.

"It's amazing…nobody [would have thought it] especially not me.

"To go on a show like that and get the exposure and to see the Twitter followers going up, the iTunes chart, it's incredible."

The young star, who admitted she cried for "about 20 minutes" after her audition, said being able to perform her own music on X Factor this year was a big pull for her.
So Lucy Spraggan obviously has been working on breaking in to the music industry and has done a degree more than many other contestants. Her belief in her own music, to create her own album, to self release it on iTunes, to have a website created sharing her talent is a reflection of what is needed to be dedicated to your dream to be a famous singer.
I wonder how many singing lessons and breathing exercises she's practiced over the years too. Such a determined lady must work on her art daily – and it shows.
This X Factor audition by Lucy Spraggan is one that has got 1,000's asking to learn the lyrics. You can view the lyrics to Lucy's song here.
If you love Lucy Spraggan you can also download her album that includes all her songs below: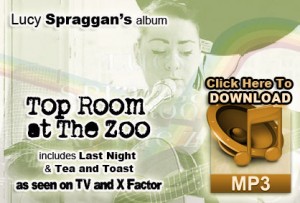 Click like and share if Lucy put a smile on your face. Tweet this post if you want to hear more form Lucy.