Here are the lyrics to "Mountains" by Lucy Spraggan as seen recently on X Factor UK live.
If you want to see Lucy's performance on the live show you can view it by clicking here.
If you like Lucy Spraggan's music you can download an mp3 of all her songs by clicking below: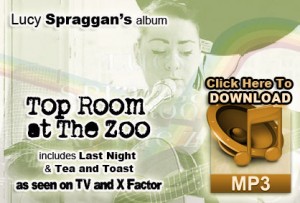 The Huff says:
X Factor finalist Lucy Spraggan has revealed that most of the songs on her album are inspired by her relationship with an older woman.

The openly gay singer – who wrote her first album, Top Room At The Zoo, before she entered the TV talent show – says she wrote the songs about her short-lived fling with a 27-year-old woman she met during a trip to the States.