With the new format to the band and a change of name Union J give a killer performance in Las Vegas in the X Factor UK judges houses round.
Louis Walsh and Sharon Osbourne were understandably impressed.
VIDEO BELOW
It seems strange at first that the X Factor judges have decided to mix up the band line up with the addition of George Shelley (on guitar) but after watching this performance you can see what the X Factor team saw as potential awaiting to be unveiled.
Carly Rae's 'Call Me Maybe' sang by Union J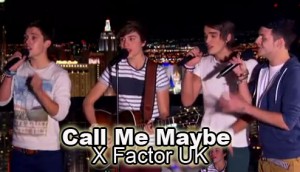 These young lads look good, sound good, have great harmonies and perform well together. They obviously have the passion to knuckle down and practice, practice and practice and are open to developing more.
Every rising star and even well established stars work at their craft on a daily basis and are always looking to step up to the next level, whether that comes from more singing lessons, breathing exercises and with these guys a new line up.
You've got to admire how they have gelled together. Look forward to seeing them on the live shows.
If you want to learn and practice the lyrics to 'Call Me Maybe' you can get them from our lyrics library by clicking here.
Like us on Facebook
Follow us @becomethesinger