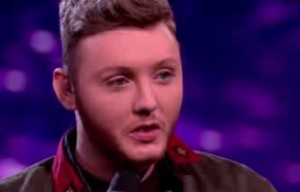 James Arthur is shaping up as a finalist and potential winner in this years 2012 X Factor UK. He has a raw energy and a level ofperformance not seen on X Factor before. On week 6 James brings some dub-step to an Adele song – Hometown Glory.
James has his music passions and particular musical influences and this week shows him in his full glory.
James Arthur sings Hometown Glory by Adele on X Factor UK live week 6
Tulisa said that she had been waiting for the past few years for an Urban artist like James to get on the X Factor stage with a dub-step approach.
All the judges were blown away with James dubstep performance.  Even Gary shared his thoughts on the fact that because Adele is such an amazing and brilliant artist no one should ever cover her Adele songs – except for James!
Dubstep if you are unfamiliar with it – is a genre of electronic dance music that originated in South London, UK.
Dub-step's overall sound has been described as "tightly coiled productions with overwhelming bass lines and reverberant drum patterns, clipped samples, and occasional vocals." But obviously James brings his own flavour to dubstep.
Historically, the earliest dubstep releases date back to 1998 and at that time they were darker, more experimental, instrumental dub remixes of 2-step garage tracks incorporating the funky elements of breakbeat, or the dark elements of drum and bass.
So what did you think of James Arthurs version of Adele's song? Share your comments below, and if you want to have a go at doing your own version of an Adele track like James you can access the lyrics and melody to Adele's Hometown Glory by clicking here.