Willie Jones is 17 years old — and shares the home state of Louisiana with Britney. He kicked off the X Factor USA auditions in Greensboro with a Fresh Prince look as judge Demi Lovato said!
And it's true you should not judge a book by its cover as Willie stepped up and caught everyone by surprise!
CHECK OUT VIDEO BELOW
Find out why the judges' and the audience's mouths dropped in surprise.
A LESSON IN OPEN MINDEDNESS! Willie is surely on his way to being a potential finalist  and oh so original.
As Simon said it's a "Ginormous, big fat YES!"
Willie Jones sings "Your Man" by Josh Turner in his X Factor USA audition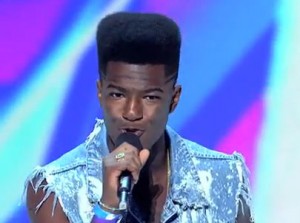 It's always refreshing to have someone wake you up and make you drop your preconceived judgements. Willie you are inspiring.
If you want to try this song out for yourself or you simply want to review the lyrics to "Your Man" by Josh Turner – you can review the lyrics by clicking here.
Like us on Facebook
Follow us @becomethesinger