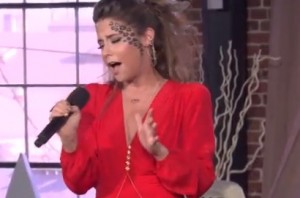 20 year old CeCe Frey, from Kansas City is confident to the degree some people are put off by her even though she has an amazing singing talent.
At Demi Lovato's house in the X Factor USA judges houses round – Demi and Nick Jonas meet her in advance to give her some advice regarding her confidence and how it could come across.
WATCH THE VIDEO BELOW
CeCe seemed vary thankful for some expert advice and said that she will work on her vulnerability. But what do you think?
How did this performance strike you?
CeCe Frey sings "Sexy and I Know It" by LMFAO
You can tell CeCe really wants this – and she's willing to do whatever it takes. Her voice is great but is it enough.
What do you think?
You can watch CeCe kill a Whitney Houston song at the bootcamp by clicking here.
Click like and share if you can see CeCe becoming a star. Should she keep the leopard print or not?
Comment below.