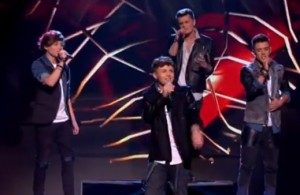 Union J have been making massive strides forward each week as boy band performers. Union J are 19 year old George Shelley, Jamie Hamblett (JJ) 24, Josh Cuthbert 20 and Jaymi Hensley 22
They are good lokking lads with great voices, even though Nicole Sherzinger and Gary Barlow said they want to hear more harmonic singing.
WATCH THE VIDEO BELOW
The boyband give another impressive performance again to screaming fans.
"When Love Takes Over" by Kelly Rowland performed by Union J on X Factor live
The audience loved the performance, the judges can see big things for these guys as the 'next big boyband'.
What do you think of Union J? Can you see them as the next big boy band? Share your comments below.
If you enjoyed this song you can try it out for yourself. You can get the lyrics to this song from our lyrics library by clicking here.