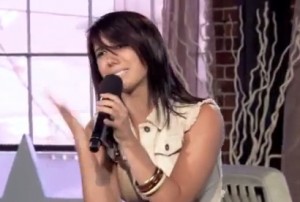 19 year old Jillian Jensen has really made an impact in this years X Factor USA 2012. Her story of being bullied and the pain and self harm it created pulled at everyones heart strings that have watched her perform.
At Demi Lovato's house she didn't just sing "Gravity" she oozed it.
WATCH THE VIDEO BELOW
Demi in this years X Factor judges houses round is giving all her singers tips and advice before they come to perform infront of her and Nick Jonas (of the Jonas Brothers).
Jillian Jensen sings "Gravity" by Sara Bareilles – X Factor USA judges houses
Jillian may of been slightly more tame than her previous performances but she absolutely oozed  every word of this song with passion and feeling.
Nick Jonas even said the way she performs and sings is 'sexy', and I must agree.
If you want to watch Jillian Jensen's amazing first audition you can watch it by clicking here.
And if you want to see her powerful bootcamp sing-off performance you can watch it here.
Click like and share if you think Jillian is an incredible performer.