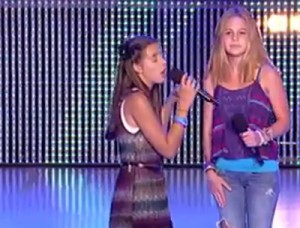 The X Factor USA has gone through the bootcamp stage with two 13 year olds singing "Pumped Up For Kicks" by Foster the People. It was Carly Rose Sonenclar vs. Beatrice Miller – they sang the song to judges Britney Spears, LA Reid, Demi Lovato and Simon Cowell.
It was quite cute to see two 13 year olds step onto the stage together. Beatrice gave a performance that sounded a bit sultry for her age, and yet when Carly Rose sang she brought some real grit to the song.
WATCH THE VIDEO BELOW
What a performance by two 13 year olds.
Carly Rose Sonenclar vs Beatrice Miller battle it out with "Pumped Up For Kicks" by Foster the People
Beatrice Miller, 13, from Maplewood New Jersey, has been acting and doing voice work since 2009, including providing the voice of Molly for Toy Story 3. She goes by the nickname Bea, loves dogs and horses like every adorable teenage girl and has an amazing voice for a 13 year old.
Carly Rose Sonenclar, 13, from Westchester New York, comes from a Broadway background, but says X Factor is a whole 'nother ball game. She has has sung the National Anthem at for the New York Knicks at Madison Square Garden, the Los Angeles Dodgers at Dodger Stadium and at the U.S. Open Tennis Tournament in New York City. She has also been singing at a variety of New York jazz clubs since she was 12.
Here is a video of her singing 'Feeling Good' at a New York jazz club
Click like and share if you think these 13 year olds are breath-taking.
These are two amazingly talented 13 year olds that have put far more practice and built up more experience than most. Admiration must go to their parents for supporting them so much as they have developed there talents.
Check out Carly Rose Sonenclar's original audition by clicking here.