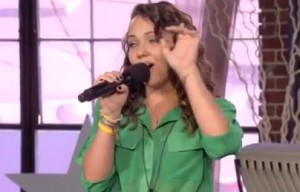 18 year old Jennel Garcia has been raunchy in her first audition, she was spicy in her bootcamp audition and now she is at the judges houses with Demi Lovato and Nick Jonas – what type of audition will it be?
Before coming into the room for this crucial audition Lovato gave Jennel some advice about not messing with her hair so much during a performance.
WATCH THE VIDEO BELOW
But was it good advice? Was it helpful? How did Jennel respond to adjusting her own style of performing?
The pressure is on because cuts are going to be made. There are no long chats when you walk in to perform, and no chats after – can Jennel step up to the pressure?
Jennel Garcia sings "Kissed a girl" by Katy Perry – X Factor USA judges houses
It is really interesting to see how a few words can effect your performance. Jennel's performance was still a great performance but the fire and passion of her previous performances was toned down.
I for one preferred her audition and the bootcamp performances better. Even Demi noticed the difference and Jennel's words later showed she was uncertain because of the way she interpreted Lovato's advice.
Word's really do have power – to either lift and improve or to pull you another direction.
See what you think. You can watch Jennel Garcia's original audition by clicking here.
You can watch her bootcamp performance by clicking here.