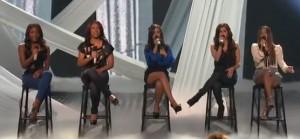 It must be a record. So many changes in such a short space of time. Was Lylas, was 1432 and now America has voted the young girl group to be called Fifth Harmony on X Factor USA live week 2 as they sing 'A Thousand Years' by Christina Perri.
The girls have gone through so many changes – initially solo contestants on X Factor and then get cut from the show. They then get offered a life-line to come back as a group – another change. They have limited time to practice together to perform. They choose the name LYLAS. Last week they had to change their name for legal reasons. So they chose 1432. Last week they were in the bottom two for Simons category so they had to sing and show how well they can sing in harmony to survive.
WATCH THE FIFTH HARMONY VIDEO BELOW
Simon made a call out to America for their suggestions on a name for the group (hopefully as the last major change). America voted and now the girl group come back to sing as Fifth Harmony.
Fifth Harmony sing A Thousand Years by Christina Perri live
Singing solo in these competitions can be difficult enough as it is but singing in harmony with others and blending makes this difficult art more of a challenge.
But Fifth Harmony seem to have pulled this off beautifully. At the end of this page we will share a few tips on how to sing in harmony like Fifth Harmony.
What do you think of their performance? They practiced, practiced and practiced some more.
They took advantage of singing lessons with a passion to be better, to refine what they do and the judges were all impressed with the noticeable effect it has had on their performance.
What the X Factor judges said
L.A. said they "nailed it" and that they had figured out who to start the song and who to end the song.

Britney told them that they "Shined the whole way," especially compared to last week. "Like night and day."

Demi Lovato said that they all had "powerful vocals."

And Simon Cowell said that there was something "exciting about their potential."
Is this the result that you get with the right singing lessons and lots and lots of practice? It appears so.
Here are a few tips on how to sing in harmony
1

Visit here to get Free Singing Lessons Online

The first step is to learn the basic scales first. Do this before attempting to sing harmony. When you learn the lead part you can learn the harmony easier.

2

Grab an instrument and try playing the harmony on it. A piano or some other instrument. It helps you to hear the notes you will be singing. Now before you attempt to sing the notes out of scale order, play or sing the scale of the harmony to accompany the melody first.

3

Get lessons or access to a teacher or knowledgeable person who knows the harmony of a particular piece so you can listen to them. Get to recognize the melody and the notes that compliment the main theme, with practice you can train your ear to do this.

4

Become aware of the dissonance and resonance within the music, train your ear to acknowledge this. When a note is sung correctly in harmony, there will be a vibration that you will notice that accompanies the sound. If it sounds right it's quite likely it is right, and when you get discord in the harmony it is fairly easy to detect this as your ear becomes more finely attuned and trained. Becoming aware is the training. Listening and awareness is the key.

5

As part of your practice – sing the same notes as the lead part and then sing the notes in the chord above or below the lead part. The baritone (low) part is typically the most difficult and can have a strange succession of chords that at first may not sound like a tune in its own right, but persist and practice. Getting additional lessons along the way with regular practice is the key.

If you want to watch another performance by Fifth Harmony where they sang in harmony beautifully you watch them again by clicking here.