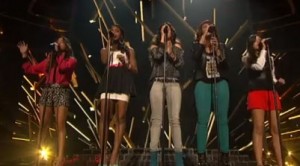 For legal reasons this newly formed group that was originally named Lylas have had to change their name. Now called 1432 these very talented X Factor USA contestants sing Skyscraper – one of the judges songs (Demi Lovato).
But do they do the song justice when they are singing it to original performer who is going to pass judgement on it too.
WATCH THE 1432 VIDEO BELOW
These girls who been giving some top performances as a group so far – have got to show if they are made of the right stuff. Have they practiced enough? Are they gelling and all pulling their weight? Are they understanding how to work seemlessly as a group? Watch the video below and judge for yourself.
1432 sing Skyscraper by Demi Lovato on X Factor USA live week 1
Again it understandable that the girls are emotional as this is a survival sing off for Simon Cowell to choose which act of his own he will send home.
Demi Lovato surprisingly said… "I don't know who that song is by, but regardless you did better than the original singer."
Now that is an amazing compliment.
Simon did choose the girls to stay and sent country trio Sister C home. The other judges sent Willie Jones, David Correy and Diamond White out of their categories too.
Simon Cowell even announced that Lylas, now 1432 may change their name yet again – and that he wants America to decide and choose their name.
If you want to see another incredible performance by this girl group at the judges houses you can watch it now by clicking here.