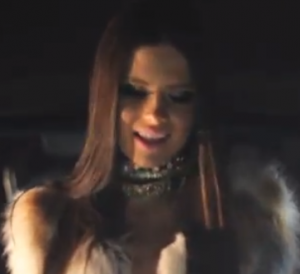 Here is an interesting view on how to become a famous singer at age 17. There are many roads to try to become a famous singer but Emily Janes of Perth Australia is doing it with Youtube.
Ali Best of ninemsn reports:
When 17-year-old Perth singer Emily Janes put her first film clip on YouTube less than a month ago, she was expecting mixed reactions.

More than 20,000 hits later, Emily's dance track 'Freak On' has a lot of people talking.

https://www.youtube.com/watch?v=-Qo-TRGzvp0

The song was written by Perth rappers Dialekt, Dc.Sir and Nate Won and the clip was filmed over two nights at her friend's house.
Now not all of us have houses like this or parents that have such amazing cars but what has the response to 17-year-old Emily's Youtube video.
"I guess it's got a lot of good responses and a lot of bad responses," she told ninemsn.

"With every negative comment, I'm getting another view which is good and I guess the word spreads, which is good."

Her YouTube video has received a number of offensive comments but it has also received plenty of messages of support.

"Actually really love this song, catchy, good-looking singer, can't wait for your next smash-hit!!!!." wrote one YouTube user.

"Would have been smart to get some dance tips before shooting the video but YOLO I guess," posted another.
Some say no news is bad news. So getting interaction with her video seems to be creating a level of fame.
But was this video actually done in just 2 days?
It took a couple of weeks to shoot and produce the video — including the taping of the party scenes, cruising around in her friend's stepdad's car and an hour or so playing up at her hairdresser's.

It then took a week and a half to produce the video.

Emily is hoping the clip will help get her name out there so she can one day live her dream of being a performer.

She is travelling to New York next month to meet with potential agents and music industry professionals.
It appears things are happening for this 17-year-old. For a home made video it really is impressive, but what is more impressive is Emily's attitude to those that are being very negative to her work and what she's doing.
To focus on the positive aspects and not to get bogged down with the hater's is a lessons we all can learn.
How to become a famous singer at age 17 is not as simple as 1, 2 ,3 – if it was everyone would be doing it. Youtube is a free excellent platform. I guess one of the biggest things that comes out of this is ACTION, taking action no matter how imperfect puts you ahead of 90% of the crowd. Marry that up with the right attitude then I think you're on the right path.
Here's a way you can help.
Please click the like and share buttons below or to the left of this post if you think taking action and having a good attitude are key no matter what age you are.