20 year old CeCe Frey, the pharmacy postal worker from Kansas City is definitely confident with her own unique image of bleached jeans and leopard printed face.
CeCe Frey sings Whitney Houstons "I Will Always Love You" in the X Factor USA bootcamp, almost going head to head with another contestant who sang the same song before her.
CeCe has a magical name see what you think of her bootcamp performance in the VIDEO BELOW.
CeCe Frey X Factor Bootcamp – "I Will Always Love You"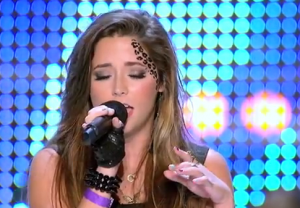 What a performance by CeCe. She obviously practices, practices and practices some more. (The other contestant that sang this Whitney song was Page Thomas).
This X Factor USA bootcamp performance by CeCe Frey is a memorable performance.
And as PerezHilton shares:
Boot camp lived up up to its hell week reputation on X Factor this week, where the contestants were pushed to their limits!

Next week, we will finally find out which 24 hopefuls were chosen to make it through to the judges' houses round!

As we previously reported, Justin Bieber will guest mentor alongside L.A. Reid, Simon Cowell will get paired with Marc Anthony, Demi Lovatowith Nick Jonas and Britney Spears with will.i.am!

We think we saw feuding boot camp roomies, CeCe Frey and Paige Thomas… along with Willie Jones' high top fade!

Oh… and was that Brit Brit in the studio with super-producer Darkchild?!

We're excited to see Demi take on the 12-16 year olds, Britney work with the 17-24 age group, L.A. tackle the over 25 contestants and Simon with the groups!
The X Factor USA has a different dynamic to the UK version. Exciting things on the horizon.