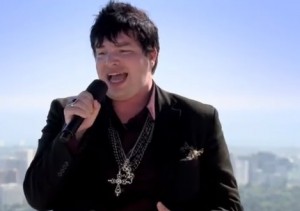 Jason Brock has given power house performances throughout this years X Factor USA 2012 series. But now it is crunch time.
He's at LA Reid's house with Justin Bieber in the X Factor USA judges houses round of cuts.
WATCH THE VIDEO BELOW
From San Franscisco Jason, aged 34, is a full-time professional Actor and Singer but as yet does not have a record deal. He is very chatty and very positive about himself in his speech when he talks or reviews his own performances.
But does this show enough of his vulnerable side? Vulnerability is such a deeply connecting quality that in these shows makes the audience want to support you and vote for you. Jason most definitely has the voice, he has the performance, he has all the qualities of a star but has got enough to win the X Factor USA?
Are viewers going to vote for him over and above some other great contestants that also have the voice but also a great story that shares their vulnerability?
Jason Brock sings "Big Girls Don't Cry" by Fergie – X Factor USA judges houses
Jason shares a brief story of how some of his family told him he didn't have the voice and didn't support his singing when he was younger.
But that once he found his voice it was the fact that he had a voice that gave him the confidence he was lacking. It makes you intrigued to understand more, as the story was a bit too vague.
But I am sure we can all recognise when people around us shoot down our dreams and don't support us, and it highlights how wonderful some of the parents are to the younger contestants in this show as they are supporting their kids dreams.
If you want to watch Jason Brock's original X Factor USA audition to see how he blows everyone away you can watch it now by clicking here.
Click like and share if you think Jason has star quality.