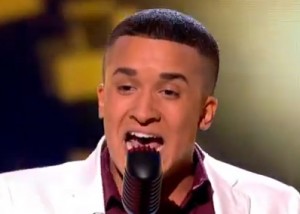 21 year old shy Jahmene Douglas seems to be conquering his nerves with the guidance of his mentor Nicole Scherzinger sings an Amy Winehouse / Ashford & Simpson mash-up.
WATCH THE VIDEO BELOW
The Sun reported that shy Jahmene has vowed to use his new-found fame to campaign against domestic violence.

His father Eustace Douglas was sentenced to nine years' jail for GBH in 2003 after attacking the lad's mum, Mandy Thomas.

The couple had been together 18 years. The assault took place at the family's home in Bath, Somerset, when petrified Jahmene was just 11.

Eustace also admitted raping a woman and got a concurrent sentence of six years.
These kind of traumas obviously have an impact in the lives of a family. Jahmene's nerves and shyness are understandable, but thank God for his talent and his opportunity to share his talent with the world.
This X Factor experience is a powerful transformative experience for Jahmene, as we can all see week by week.
Jahmene Douglas sings Amy Winehouse / Ashford & Simpson in X Factor UK live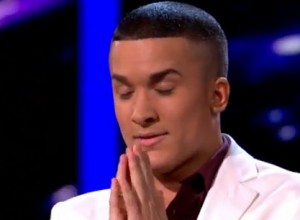 This unique mash-up by Jahmene  of Amy Winehouse's "Tears Don't Dry On Their Own" and Ashford & Simpsons "Ain't no mountain high enough" was an impressive performance in an amazing outfit.
Some of those that knew Jahmene as he grew up said his timidity is due to his overbearing dad. One said: "His dad was a nasty piece of work and terrorised the family. It's no wonder Jahmene is shy and has had confidence issues."
It's an inspiration to see Jahmene develop week by week. He is an absolute inspiration for everyone out there that have been crushed by traumatic circumstances.
It may effect you but deep down you have what it takes to rise up, step beyond it and shine.
I for one would like to see Jahmene go all the way in this X Factor – he's recording artist material and it's about time his specialness was celebrated world wide.
If you want to try this song for yourself you can get the lyrics to this song from our lyrics library by clicking here.
If you want to watch Jahmene's original audition where he blew everyone away you can watch it again by clicking here.