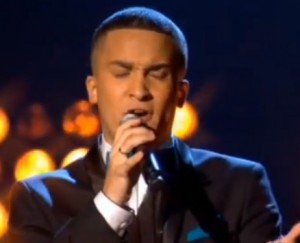 22 year old Jahmene Douglas has had a challenging week with the truth about his father coming out as he admits singing was his escape and way of dealing with the traumas in his life and a way to make his mom smile.
Jahmene's singing has been his way of saying a prayer throughout so it is apt that this week on X Factor UK live he chooses to sing Aretha Franklin's song.
WATCH THE VIDEO BELOW
Jahmene shared an honest insight into his life and has a very emotional response to the comments to his performance.
Jahmene Douglas sings "I say a little prayer" by Aretha Franklin on X Factor live
It's inspiring to hear such words of encouragement and to see Jahmene standing so strong and vulnerable at the same time.
If you want to practice this song yourself you can get the lyrics from our lyrics library by clicking here.