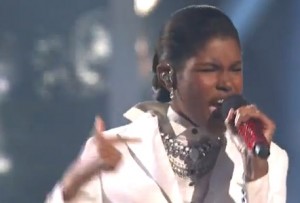 An emotional week for 13 year old Diamond White and her family as she was eliminated from X Factor USA last week but with a fortunate final twist she gets invited back as a wild card. Diamond crushes Whitney Houston's 'I have nothing' like no other 13 year old can.
Every parent's heart feels the ups and downs their child goes through, so it must of been an upsetting week for the White household, followed by tears of joy as she gets to return for another week.
Diamond comes back dressed all in White and ready to fight for her spot in the show.
Diamond White sings 'I have nothing' by Whitney Houston on X Factor USA live
What the X Factor judges said…

L.A. Reid: "First of all, welcome back… I thought that was an ambitious song choice."

Demi Lovato: "I'm trying really hard not to cry. I'm still a huge fan of Whitney Houston and that just tugged at my heart. Phenomenal."

Simon Cowell: "Gutsy. Great vocal. Great song. Great performance. I'm so glad you're back in the competition."

Britney Spears: "I feel like you channeled Whitney."
It's great to see the determination and powerful performance that Diamond gave live on X Factor. She sang this song in bootcamp too, she is obviously a great Whitney fan.
You can grab the lyrics of Diamond White's latest X Factor performance from our lyrics library – 'I have nothing' lyrics by Whitney Houston download them from our page by clicking here.