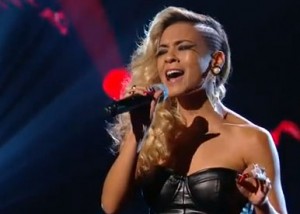 Jade Ellis is one beautiful mother and she looks gorgeous as she sings Enrique Iglesias' "Hero" in the first X Factor UK live show 2012.
STV shared:
Jade Ellis defied the critics and showed the strength of her voice during her first live performance on the X Factor.

With just a pianist on stage beside her, the 25-year-old Londoner poured her heart into an emotional interpretation of Enrique Iglesias' ballad Hero.
And as far as her beauty…
Looking super sexy in a black leather basque and skirt with red ankle boots, and with her flowing blonde locks falling over her shoulders, Jade showed off a striking resemblance to R&B star Rihanna.
Gary Barlow said to Jade, 25
Jade this is very interesting, the first surprise of the night; where have you been? You've been hiding away. You're in a category that's very strong and I feel somewhere along the line you might have been forgotten – until now.

I'm sure we'll see you next week. Very song performance.
Nicole said
First of all girl you're one hot mum! My favourite thing about you Jade is your tone, you have this amazing tone.
Jade Ellis sings Hero by Enrique Iglesias
What a powerful performance. Jade has been through the mill and it is fabulous to see this transformation for her.
Challenges About her Sexuality
Jade is mum to six year old Caiden and is living happily with her long term partner Heva and in a new interview she has revealed that she finally admitted her sexuality and came out when her child was just five months old.

'I had Caiden when I was going through a phase where I didn't really know where I was in life,' Jade told Now. She added:

'But I knew I wasn't meant to be with a man."

'Five months after I had my daughter, me and Heva just looked at each other and knew.

'And ever since then, we've been happily together.'

Jade and Heva are incredibly happy, however that seems to be despite a lot of people around them and the talented singer confessed that she has faced more than her fair share of taunting and abuse in her local area.

'I've walked to the shops before and people have shouted at me and Caiden,' she continued.

'I can brush it off, but it isn't nice in front of my daughter.'
Lets hope this is the life line Jade and her family needs so they can enjoy a brighter environment.
Click like and share if you think Jade gave an impressive performance here.