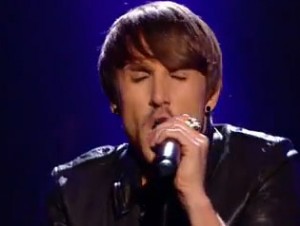 In his original audition Louis Walsh told Kye Sones: "Kye, you've been cleaning chimneys with a voice like this? You were born to sing."
And now he has reached the live shows. Kye Sones sings "Man in the Mirror" by Michael Jackson.
Kye is a chimney sweep in his day job and has previously been signed by Sony records as a member of an electro pop band called Diagram of the Heart and toured with Scissor Sisters but after more than a year he has decided to give it a go on his own.
In his audition he impressed guest judge Rita Ora when he mashed her song RIP with Swedish House Mafia's Save the World Tonight.
WATCH KYE SONES SING "MAN IN THE MIRROR" below