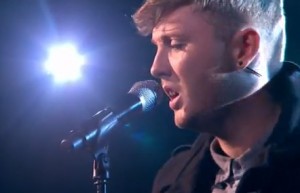 James Arthur has a unique ability to transform the words of any song into the most heart-felt rendition you've ever heard. Some people give it all they have got. James just gives it that much more.
In week two of the X Factor UK live 2012 James has the good fortune to speak to Mary J Blige about one of her songs.
WATCH THE VIDEO BELOW
Mentor Nicole Sherzinger gets Mary J on the phone so that she can give James from Middlesbrough tips on how to perform the song and how to connect with it and the audience.
James Arthur sings "No More Drama" by Mary J Blige on X Factor UK live
James' performance here is unique. He definitely gives it 130%. If you close your eyes and listen you can feel the pain and the hurt with every word. Even without acknowledging the words and you just listen you can understand what the song is communicating.
It's rare to hear such a deeply heart-felt song delivered in such a way.
It's easy to see how James Arthur is destined to be a recording artist.
If you want to see James Arthur's original audition where he blew all the judges away you can watch it by visiting it here.
Click like and share if you can hear the pain James shares so deeply.