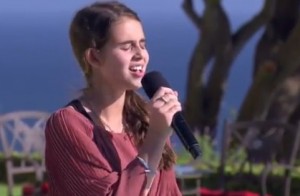 13 year old X Factor star Carly Rose Sonenclar has delivered some of the best performances that any X Factor internationally has ever seen. And for those performances to come from someone so young is absolutely incredible.
Carly, from Westchester New York, shares how much this means to her to stay in the competition.
She has has sung the National Anthem at for the New York Knicks at Madison Square Garden, the Los Angeles Dodgers at Dodger Stadium and at the U.S. Open Tennis Tournament in New York City. She has also been singing at a variety of New York jazz clubs since she was 12.
WATCH THE VIDEO BELOW
Carly sings "Brokenhearted" to Britney Spears and will.i.am.
"She's possessed," said will.i.am. "She's like a little caterpillar and then you think she's gonna turn into a butterfly…Dragon! Scorching the town."
Carly Rose Sonenclar sings "Brokenhearted" by Karmin in X Factor USA judges houses
Delivered with so much feeling, tenderness, texture and emotion. Carly really is an amazing performer.
If you want to see Carly Rose's original audition where she blows all the judges away you can watch it by clicking here.
Click like and share if you think Carly Rose Sonenclar is a star.
UPDATE: Here is the moment when Britney decides to send Carly Rose home or take her to the live shows: