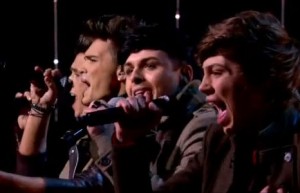 The realigned boy band Union J has developed a great deal through the X Factor UK 2012 shows.
Now with 19 year old George Shelley added to the line up of Jamie Hamblett (JJ) 24, Josh Cuthbert 20 and Jaymi Hensley 22 Union J are shaping up to be a boy band to get the girls screaming.
 WATCH THE VIDEO BELOW
Union J stepped onto the stage of week two of the X Factor UK live shows 2012 to an audience of screaming girls.
Their good looks, great voices and natural chemistry are all the traits of a boy band to keep an eye on.
Union J sing "Bleeding Love" by Leona Lewis in a mash-up at X Factor UK live show
They gave a mushy kind of performance that made many go weak at the knees. If you don't fancy these guys there must be something wrong with you.
But beyond their looks their voices and performance were excellent.
If you want to watch Union J's performance in Las Vegas you can watch it by clicking here.
Click like and share if you enjoyed Union J's performance.