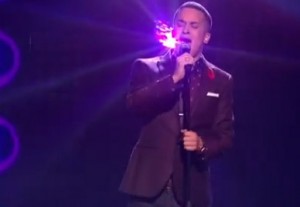 Jahmene Douglas has been overcoming his anxieties and has shared his vulnerabilities through his X Factor journey. His voice is incredible. This week he has taken on a challenging Beyonce song and takes it to new levels that blows everyone away.
WATCH THE JAHMENE VIDEO BELOW
All the judges sing Jahmene's praises, but what do you think.
Jahmene Douglas sings Listen by Beyonce on X Factor UK live week 5
Jahmene Douglas sings Listen by Beyonce in X Factor UK live week 5

What the X Factor judges said…

Tulisa said: 'Wow I'm speechless… I guess I will see you in Mani at the finals. You killed it'

Louis Walsh said: 'That is how it is done.'

Gary Barlow said: 'You killed it tonight, Your talent is absolutely amazing. Wow.'

And his mentor Nicole said he was a slice of heaven.
Jahmene has been a supermarket worker for sometime working at ASDA and has a very challenging life so far but now this show has given Jahmene an opportunity to share his talent with the world and transform his life.
Some people are skeptical of these reality TV talent shows but you must admit that Jahmene is a rare talent to uncover.
What do you think of Jahmene and his performance?
Is Jahmene Douglas's performance of Listen by Beyonce a slice of heaven for you?
You can watch Jahmene's original audition where he blew the judges away again by visiting it here.