CeCe Frey has been impressive throughout X Factor USA but now she sings for her survival to stay in the competition. She has changed her look from the leopard spots on the side of her face – to a new look blond bombshell. CeCe is obviously shaken that she is in the position for singing for survival with Irene Cara's Out Here On My Own.
WATCH THE VIDEO OF CECE BELOW
Do you think she should of been in the singing for survival position?
CeCe Frey sings Out Here On My Own by Irene Cara on X Factor USA live
You can see that CeCe is upset and shaken but all the judges comments have pointed to a more genuine version of herself on the stage.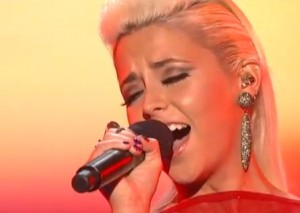 What a tough time for Demi Lovato to send one of her own acts home – CeCe Frey goes or Willie Jones, the young 17 year old country guy.
CeCe shared with the X Factor interview team that her trademark leopard spots we saw through and upto the Judges' Houses round come from a deeper place than just wanting to look cool.
CeCe herself shared:
"A couple of years ago I was in this relationship that was not healthy. It was in fact very toxic. And I had this idea and I started doing the paint and I realized whenever I was painting it on myself, I felt different. It was an empowering thing."
So it is interesting that it is easy to judge the looks of someone without a true understanding. Lets hope that more of the real CeCe Frey comes to our screens.
If you want to watch a leopard spotted CeCe perform impressively at the judges houses you can watch it now by clicking here.