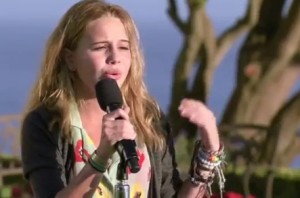 13 year old Beatrice Miller has had some great performances so far in this season of X Factor USA, and this is yet another.
She sings 'Titanium' by David Guetta for Britney Spears and will.i.am at Britney's house. It is refreshing to hear Beatrice say how important to her this is, to hear her say that so far in her life everything is music and singing.
WATCH THE VIDEO BELOW
It shows what dedication and a true love for singing and performing can do when you apply yourself. I'm sure her parents support her 100% and give her the opportunity of singing lessons and additional training so she can make the most out of her passion and talent.
What do you think? Does Beatrice need a few more years to develop further OR is NOW her time?
Beatrice Miller sings 'Titanium' by David Guetta – X FActor USA judges houses
Britney is obviously very supportive, perhaps that's her natural motherly instinct.
You can watch Beatrice sing 'Pumped up for kicks' in a sing off in the X Factor bootcamp by clicking here.
If you love this song you can get the lyrics right now to practice yourself by clicking here.
Beatrice is a star in the making and with some additional coaching over the next couple of years you can see big things coming her way.
Thanks and gratitude must go out to her parents for supporting her in getting this far in the competition – they must be so proud.
If you notice your own kids, nephews or nieces have a love of music and especially singing see how supportive you can be.
See if you can find them singing lessons and training.
Even if it's virtual singing lessons or online singing lessons. Every drop of support will help develop them to greater depths of talent and love for singing and performing.
Click like and share if you love what Beatrice is doing.
UPDATE: Here is the moment Britney decides whether Beatrice goes home or goes through to the live shows…